Bert was lonely.
Bert replicated.
Children of Bert is
a 1369 piece 1/1 collection featuring the first six generations of Bert's extended replicant family

an exploration of genealogy and replicative drift |

each CoB is an approximate replication of their Parent, beginning with Bert

a living narrative on a post-apocalyptic alien world,

inspired by classic and contemporary sci-fi

a creative collaboration with AI incorporating art, music and storytelling

CoB Genealogy
All Children of Bert are related and genealogy is traceable via metadata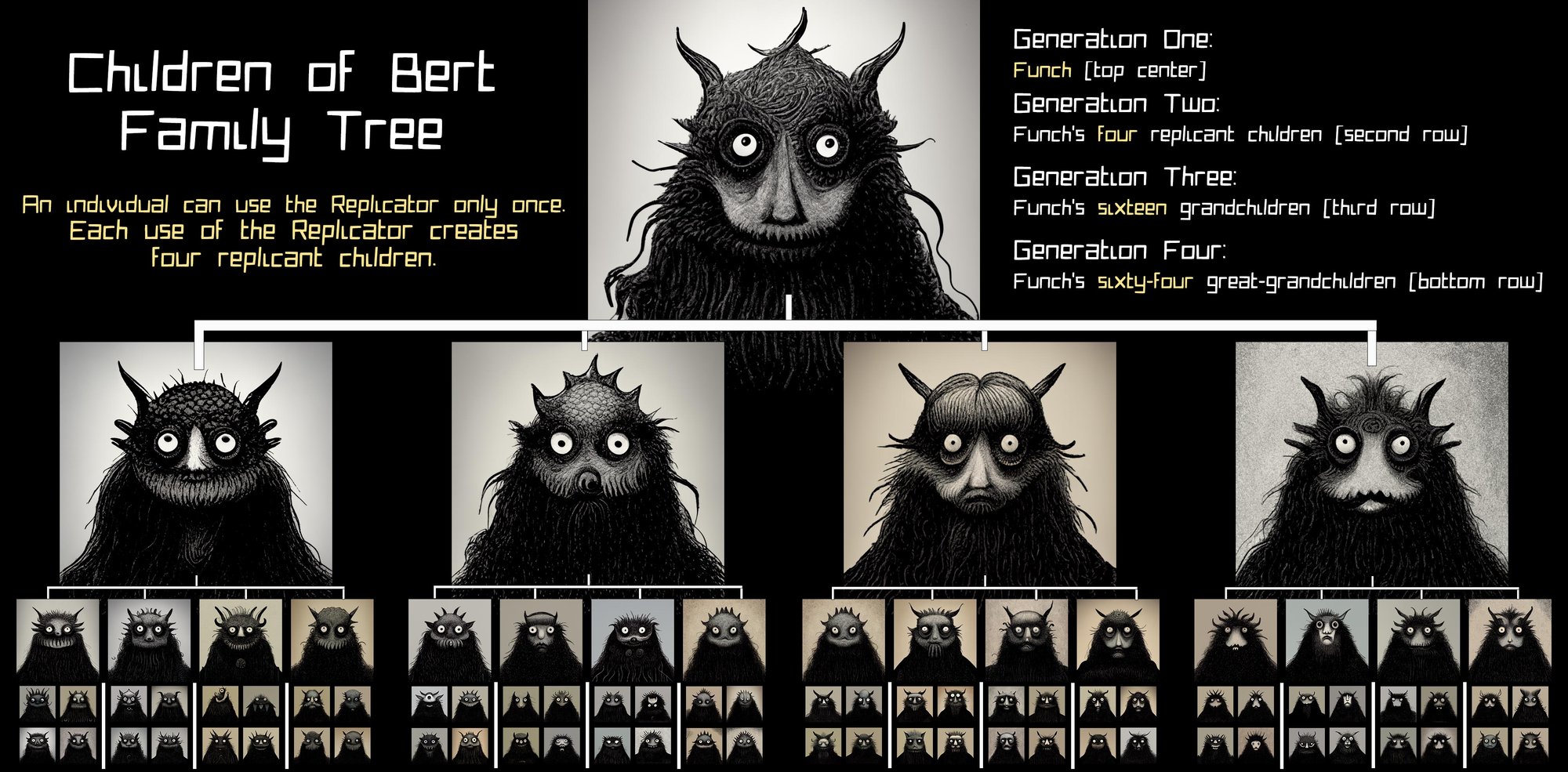 Replicative Drift
Each CoB resembles their parent and siblings while drifting further and further from original Bert
An example of CoB replicative drift, following one family tree branch from generation 0 (Bert), through generation 6 (Dewi) ->

And a short 15 second video below showing replicative drift in action through the four quadrants of CoB genealogy

CoB Rarity
All Children of Bert are 1/1
Rarity is determined by a CoB's generation [I-VI], and various attributes/traits [Dominant DNA, Mentality, Primary Mutation, Face Ambiguity, manifestation level of The Blue, and Background Type]. Examples of different CoB attributes will be shared in Discord and on Twitter.
The genesis collection consists of Bert (Gen 0) + 4 First Gen + 4 Second Gen + 16 Third Gen + 64 Fourth Gen + 256 Fifth Gen + 1024 Sixth Gen = 1369 total Genesis Children of Bert
All CoB have unique names befitting their unique personalities
IMPETUS & Roadmap
Children of Bert is an ongoing creative collaboration with AI. The Children of Bert universe will expand in unforeseen ways as AI develops into an increasingly capable creative partner
Developing the Children of Bert universe after genesis mint:
Children of Bert: Generation 7 [a 4096 CoB collection, descendants of the genesis collection's 6th generation]

Mountains of content. Some better, some worse
Team
Children of Bert is a passion project from an anonymous developer with professional experience in online media and independent publishing